The big move, or rather push and updated Xeon roadmap that shows rigorous execution, comes from the earlier promise and strategy made by Pat Gelsinger, Intel CEO, in 2021, that will push intel to deliver five nodes in four years, which could explain the surprising move to 18A manufacturing process for the Clearwater Forest Xeon lineup.
In addition to updating its Xeon roadmap and giving us a bit more details on what to expect from its Xeon lineups, Intel has also shown a couple of demos, pitting its 48-core Xeon against AMD's EPYC Genoa and claiming a 4X performance advantage. It also bragged with a memory throughput benchmark of its upcoming Granite Rapids Xeon chip showing an impressive 1.5TB/s of bandwidth on a dual-socket server.
As you will be able to see, Intel is "dividing" its Xeon lineup into two segments, The "CPU P-Core Xeon" lineup, which can be considered as traditional high-performance Xeon CPUs with performance cores based on Intel's top-performing architecture, and the "CPU E-Core Xeon" lineup, which will be the first all E-core Xeon CPUs based on smaller efficiency cores, aimed at cloud-optimized workloads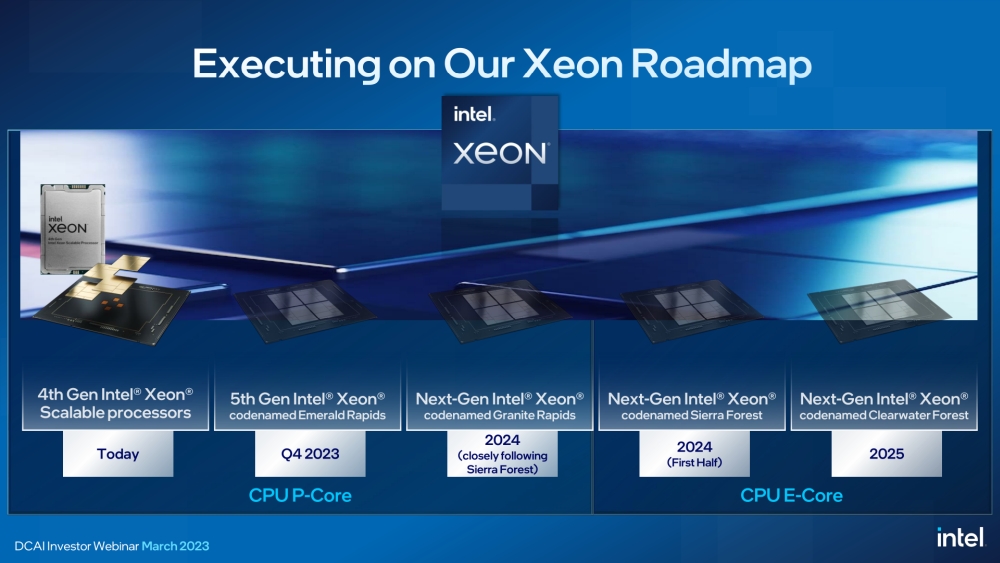 Intel P-Core Xeon lineup on track with Emerald Rapids
Intel's new Xeon roadmap starts with P-Core Xeons, and Emerald Rapids, which will be known as the 5th Gen Intel Xeon Scalable Processors. Intel says that Emerald Rapids is on track for Q4 2023, sampling today with volume validation well underway. As revealed earlier, the successor to Sapphire Rapids is built on Intel 7 manufacturing process, so all improvements in performance or efficiency will come from architectural improvements, and Intel claims increased core density (up from 60 with Sapphire Rapids) with higher perf/W in the same power envelope.
The Emerald Rapids, or 5th Generation Xeon Scalable Processors, is, as noted, a direct successor to the Sapphire Rapids, using the same LGA 4677 platform, which should allow Intel to both skip the long validation as well as allow customers to simply swap Sapphire Rapids with Emerald Rapids.
Intel also revealed a bit more information about its Granite Rapids Xeon chips, which are next-generation P-core-based Xeon lineup. Intel already announced Granite Rapids earlier, and is pretty much giving a progress update, stating that it is on schedule for 2024, and is "hitting all major engineering milestones".
It will bring increased core density, memory, and I/O innovations, and will be the first P-Core Xeon built on Intel 3 manufacturing process, which is the second-generation EUV process. As revealed earlier, Granite Rapids is based on Intel's tile architecture, with separate tiles for compute and I/O.
Granite Rapids will also be the first Xeon CPUs to support Multiplexer Combined Ranks (MCR) DIMM. Revealed earlier by SK Hynix, the MCR DIMM puts two ranks of chips, and while actual chips are not faster, it doubles the effective bandwidth, reaching 8Gbps or 8000MT/s of data transfer speed. The MCR DIMM was the culprit behind the aforementioned demo showing Granite Rapids reaching an impressive 1.5TB/s of bandwidth on a dual-socket server.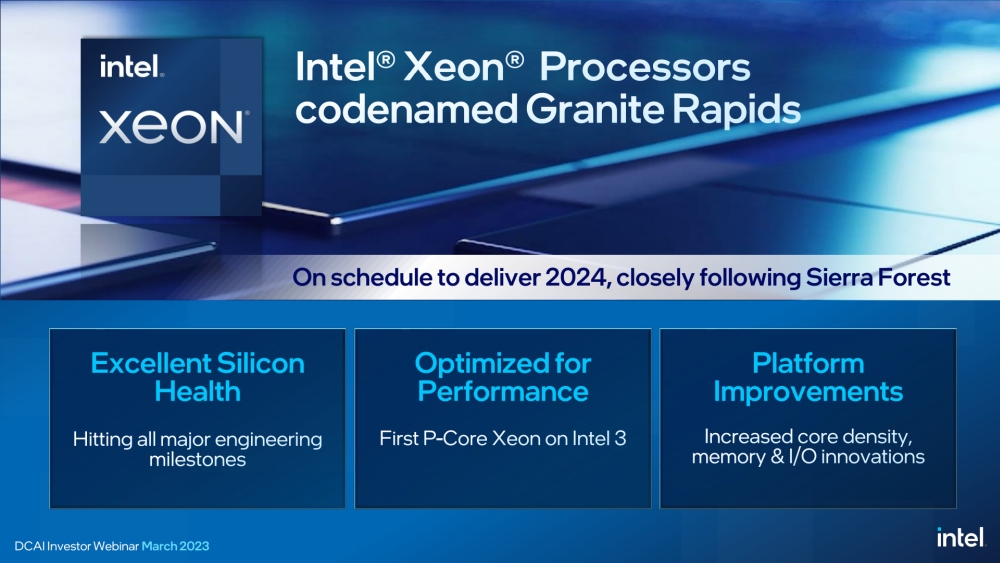 Intel E-Core Xeon lineup starts with 144-core Sierra Forest in H1 2024
Intel revealed a bit more information about its Sierra Forest Xeon lineup, which will be the first Xeon processors using only optimized "efficiency" cores. Intel has previously announced Sierra Forest, which will also be built on Intel 3 manufacturing process and aimed at cloud-optimized workloads.
Intel is giving an update for investors and apparently, Sierra Forest is doing pretty well, with the silicon power-on process completed earlier in the quarter, and getting a full operating system booted in under 18 hours, which is some sort of record, at least at Intel. Intel also says that the silicon is stable enough that it is already sampled to at least one customer.
Although Intel is introducing the so-called CPU E-Core Xeon lineup, these will share the platform with CPU P-Core counterparts, so Sierra Forest will go with Granite Rapids, which will come shortly after. As detailed earlier, Sierra Fores and Granite Rapids do not only share the platform, but also the I/O tile, allowing Intel to simply swap P- and E-cores, making either one or the other processor, which should greatly simplify Intel's manufacturing.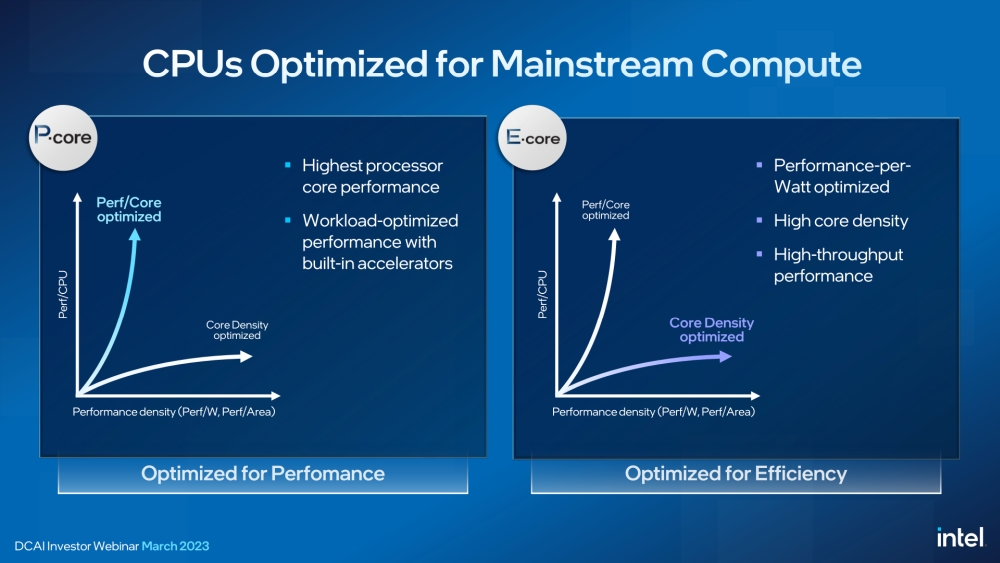 The Sierra Forest will ship with up to 144 E-Cores, but, unfortunately, Intel was not ready to talk about any specifications so we do not know if these will include Hyper-Threading, which should lead to 288 threads per CPU, or if these are single-threaded as it was the case with Intel's E-cores on consumer CPUs. Intel also does not include all ISA extensions on E-cores, as, for example, E-cores on consumer CPUs lacked AVX-512 instructions.
Intel's Sierra Forest will be facing AMD's 5nm Bergamo, a similar approach using efficiency-oriented Zen 4c cores. Bergamo is coming in 1H of this year, so AMD is a good year ahead of Intel on efficiency servers, and we are yet to hear about the Bergamo successor.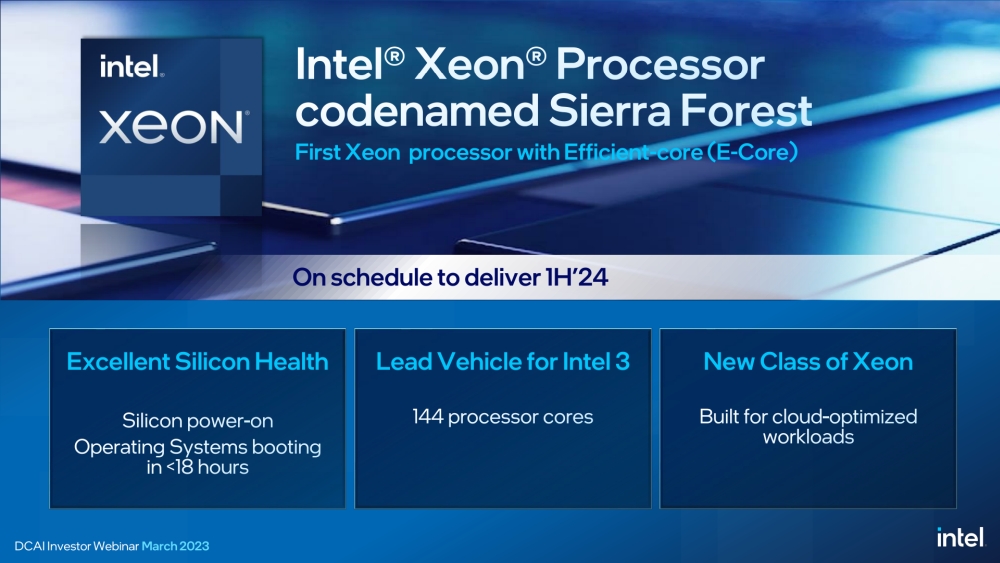 Intel also shed a bit more light on the Sierra Forest successor, the Clearwater Forest, which is on track for 2025. This is the first time Intel has confirmed Clearwater Forest, and while we did not get a lot of details, Intel did confirm it is based on the 18A process. This is rather a surprise considering that Intel is skipping the 20A process node. The 20A is Intel's first-generation Angstrom node, while the 18A is the second-generation Angstrom RibbonFET process which uses a Gate-All-Around (GAA) and PowerVia Backside Power Delivery (BPA) technologies.
The move to 18A possibly comes as a result of the recent announcement that moved it up in the schedule, pushing 20A to H1 2024, and 18A to H2 2024. Intel also confirmed that there won't be any Xeon CPUs made on the 20A manufacturing process.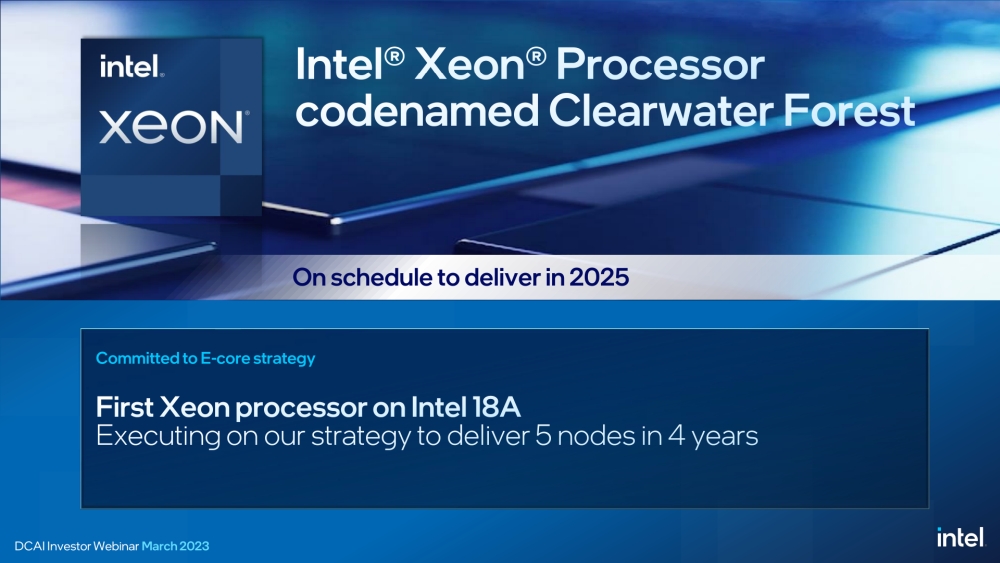 GPU, AI Accelerators, and FPGAs are also part of Intel's roadmap
While most updates were on the CPU side, Intel did make a brief update on its other products, including dedicated AI accelerators and FPGA.
According to Intel, its Habana Labs division has taped out its next-generation Gaudi3 deep learning accelerator, moving to the 5nm manufacturing process. It did not give out any specific details, but more information should come late this year. Intel is also expecting to qualify no less than 15 new FPGAs in its STRATIX, eASIC, and AGILEX lineups this year.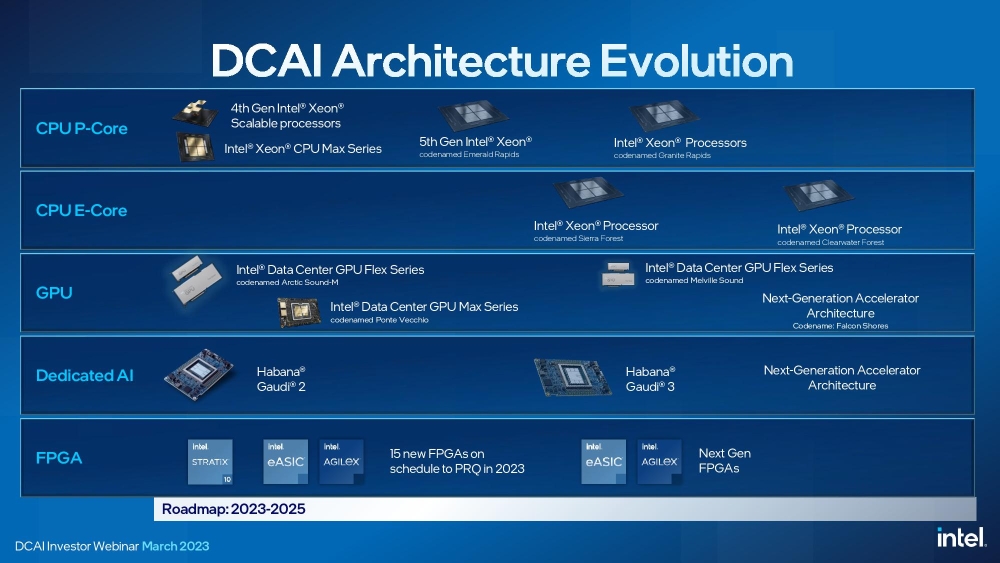 Intel has its eyes on the AI Accelerator market, saying that it will become a big market by 2027, reaching over $40 billion. While GPUs are slowly taking over the AI market, Intel claims that certain general compute is best served by CPUs, targeting small- to medium-sized AI models.
It is obvious that Intel is serious about its push to deliver on the promise and execute its roadmaps to the letter. The company is facing stiff competition with power efficiency servers shifting focus to ARM, and AMD will be a good year ahead with its Bergamo chips. Considering the situation the company was in these last few years, it appears to be getting back on the right track.