The first big change that is happening going forward is that Intel is using a disintegrated design and uses different manufacturing processes for the appropriate tiles. Tiles are chiplets if anyone asks. It is just a matter of terminology. Meteor Lake's compute tile (an artist previously known as CPU) is the company's first to be built on Intel 4 process technology. Intel 4 and architectural changes promise to make Meteor Lake Intel's most power-efficient client platform in history.
Sam calls Meteor Lake the largest architectural shift in 40 years and lays the foundation for innovation in the PC across the decade to come. Needless to say, this is a very bold statement.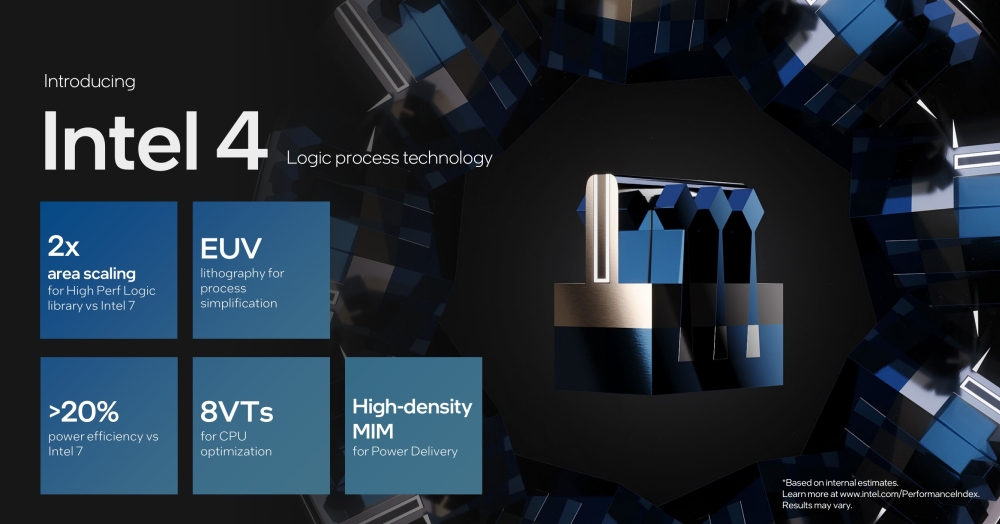 What makes Meteor Lake special is the design from the ground up, focusing on battery longevity and the right performance levels. One can draw parallels with ARM architecture where the suitable core is chosen for the proper operation.
Meteor Lake's next-generation disaggregated architecture consists of four unique tiles connected through Intel's industry-leading Foveros 3D packaging technology:
Compute tile – Contains the latest-generation E-cores and P-cores, both of which introduce new microarchitecture enhancements. This tile is built on Intel's next-generation Intel 4 process node, bringing major advancements in power-efficient performance. This is a tick momentum as the E cores and P cores are largely based on the Gen 13 design. The Meteor Lake cores that found its place in the Meteor Lake compute tiles are Redwood Cove P-cores (Performance) and E-core energy-efficient Crestmont cores. The Meteor Lake core design is largely based on last year's Raptor core performance core and Gracemont efficient cores.
SOC tile – Integrates a Neural Processing Unit (NPU), bringing power-efficient AI capabilities to the PC that are compatible with standardized program interfaces such as OpenVINO, among others. This move will bring AI noise canceling, stable diffusion, image generation on the device, and other neural networks. The NPU that will ship to millions might actually bring on-device AI to the masses. Qualcomm's 8CX launched in 2018 and properly refreshed in December 2021, introduced decent AI acceleration but failed to attract a critical volume to get the developers excited.
The game-changing feature
Intel has also added new low-power island E-cores on the SoC tile directly attached to the SoC fabric. These cores are ideal for an entire class of low-power workloads and allow for further optimized power-efficient performance. These cores will be able to operate in very low power mode, for example when reading a webpage or watching a movie and will introduce significantly better battery life. We would not be surprised to see 20+ hours of battery life due to the SoC cores. This is the biggest innovation in a very long time when it comes to the mobile computer processor.
The SoC also integrates Wi-Fi and Bluetooth, including Wi-Fi 6E, as well as media, with support for 8K HDR and AV1 codecs and HDMI 2.1 and Display Port 2.1 standards. The Media engine is separated from the GPU tile, meaning that the SoC tile can operate running the SoC tile cores, and the media engine is separate from firing the GPU. This approach saves much energy and increases the battery life. Since the media engine is separated, the Meteor Lake GPU tile is a new chip based on the TSMC N5 process.
Alchemist ARC was on TSMC N6, and Tom Petersen TAP confirmed to us that this is a new GPU based on ARC Alchemist design.
GPU tile – Incorporates Intel Arc Graphics architecture into the client SoC to deliver discrete-level performance in an integrated form factor. The leap in graphics capabilities with increased power efficiency enables Meteor Lake to achieve up to 2x gen-on-gen performance.
IO tile – Contains Intel's industry-leading connectivity with integrated Thunderbolt® 4 and PCIe Gen 5.0
Meteor Lake is expected to launch later this year and bring some game-changing performance, AI graphics, and battery savings to the notebooks. From now on Meteor Lake will end up brand Intel Core Ultra and Pat announced that it will be shipping on December 14, 2023.